Frequently I mention, and write about, how much I enjoy and learn from my personal property appraisal work, but this last office appointment was beyond my wildest expectations. To borrow from William Shatner, "I hope I never recover from seeing this one of a kind Japanese paper hanten." An appointment was made for the morning, and the owner wanted me to look at and discuss approximately 15 properties.  The purpose was to examine for insurance, she was nervous because of fire season, and she wanted a report.  She left five hours later.
My husband, Arthur Leeper, frequently helps bring in boxes of carefully packed material my office appointment clients bring and want to share and discuss. The sizes of boxes and weights vary and this particular day, he helped bring inside about ten boxes and set most of them on the chairs, reserving the table for the textile the owner was bringing for me to examine.
After first sitting outside under the umbrella among a few obviously well-packed boxes, and listening to the colorful, even secretive, story of her father's work as an artist, for the government and himself, during the 1920-1960's and the provenance of the various material, we stepped inside to unwrap carefully, the paper garment, a Japanese hanten or jacket.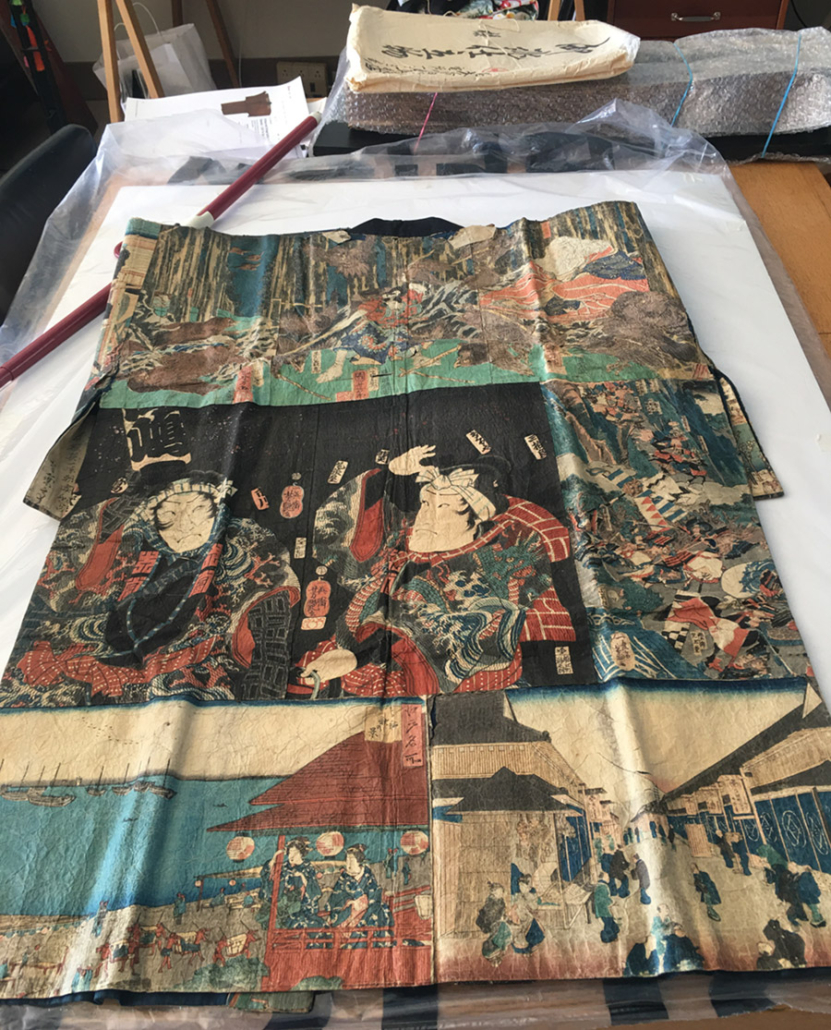 I was stunned. The inside lining was very fine indigo blue cotton and the outside was colorful and exciting woodblock prints sewn together to make a finely tailored hanten, with a flat lapel. There were approximately 35 prints used to make the garment. The colors of the prints were vivid, the blues so deep. Another story another day, within hours I had the translation of the prints, the artists and the dates.  It includes names of artists we all know; Hiroshige, Kunisada and Eisen to name some of the stars. I found myself rolling outside in my wheelchair and then inside, muttering to myself. I blinked several times. I touched the woodblock prints, I touched the lining and I carefully lifted the sleeves. The prints had been treated with a material to strengthen the fibers, they were in good condition, but were fragile by material and age, 1850-70's. I looked at lapel to see if it was meant to be folded back (sign of samurai use) but no. Toward the bottom of the front opening, a print has been split and carefully sewn into either side of the garment, matching if they came together. It was a beautifully tailored jacket.
The owner offered to leave the hanten with me for a while, for further study, but I was so nervous that I said 'No'. Usually, we have a box of white gloves available for just such an examination. I was so efficient I had moved them to a more logical place that now I couldn't remember. 
I had wanted to examine this last because I knew I would obsess about a textile if exciting. It wasn't fire or water damage that I worried about, it was me, my fingers and touching over and over and over. Many of my textiles I've donated to museums because I can't take my hands off them. Not to mention the cup of coffee.