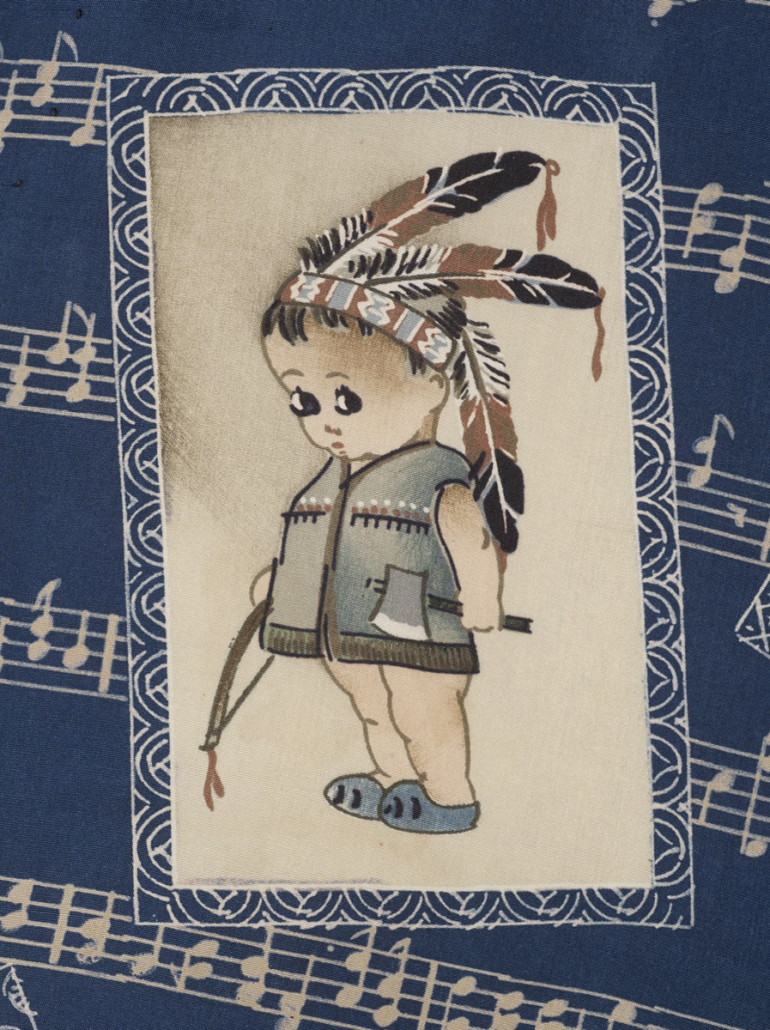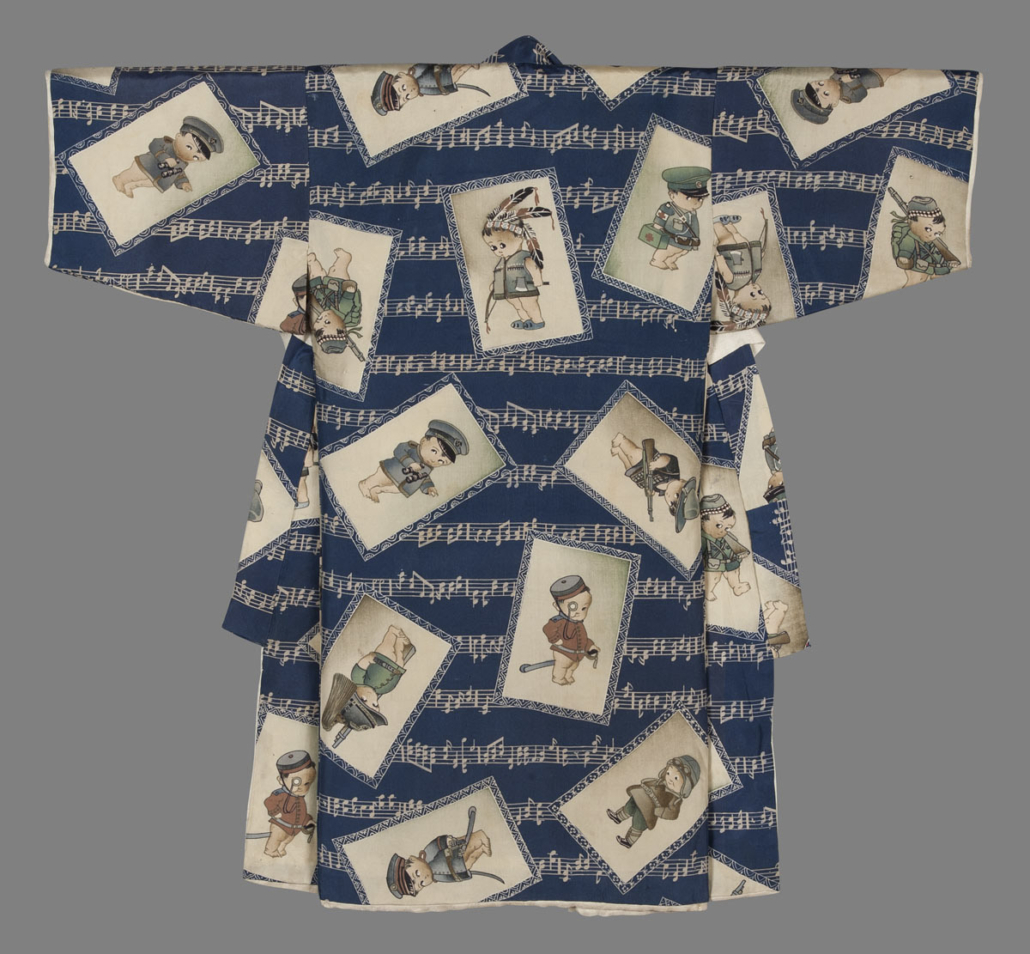 The early blue child kimono with numerous clothed Kewpie dolls, is an example of the cute American figure that became an obsession in Japan in the early 1900's and continues to this day. As an appraiser of Asian Art, I was hired to produce a charitable contribution appraisal report that included this textile. Other than a faint visual of a small naked doll with a pointy head and blush cheeks, I knew nothing about the Kewpie. The cotton garment, dating from early 20th c, was in excellent condition, the horizontal line of white musical notes on an indigo background made the individual characters on white rectangular 'notecards', dressed in costumes of toy American Indians, and Englishmen and Explorers pop off the cloth. It is a true masterpiece of design.
The image was created by Rose O'Neill, born in 1874 in Missouri, who entered newspaper drawing contests, and winning prizes as early as age 14 for the Omaha World Herald. At 19, O'Neill went to New York to try and sell her novel and instead began an illustrating career for magazines. In 1901 the first Kewpie comic was published in Ladies' Home Journal. The name was a baby-talk version of 'Cupid'. It is reported she described him as "a sort of little round fairy whose one idea is to teach people to be merry and kind at the same time". She believed her art would teach people to "do good deeds in a funny way. The world needs to laugh or at least smile more than it does."
Although referred to as male, the Kewpie illustration was always nude without any genitalia and eliminated the question of gender altogether. O'Neill was a Greenwich Village bohemian and supported the suffrage movement by illustrating the posters for the National American Women's Suffrage Association, some with Kewpie babies pleading for the mother's vote.
In 1912, O'Neill traveled to Germany and there successfully created a matte porcelain bisque doll with a potbelly and a point on top of his head, and the Kewpie doll was born. These figures enjoyed a decade of fame in United States, with other products like Jell-O including the name. By 1914, she was the highest paid female illustrator in the United States. Today, the popular brand of mayonnaise used in Japan is called 'Kewpie'. This image, and the baby-talk sound name, appealed to the Japanese. The country was eager to embrace Modernism and cuteness. The dolls were mass-produced in Japan in the 1920's and to this day, one can see textile designs that incorporate the image.
While researching Japanese propaganda and modernity kimono, I found the Kewpie to be the most valuable motif. The pictured kimono has a fair market value of $20,000.00, with theme the most important value characteristic as well as the complexity of background fabric with musical notes and a variety of individual kewpie. A well-known expert of early Japanese propaganda textiles, Jacqueline Atkins, is writing a small volume on Kewpie with photographs of the kewpie kimono she has encountered over thirty years. She mentioned this was the number one executed design rendition she had encountered. Naturally, this quote added credibility to the argument to value.