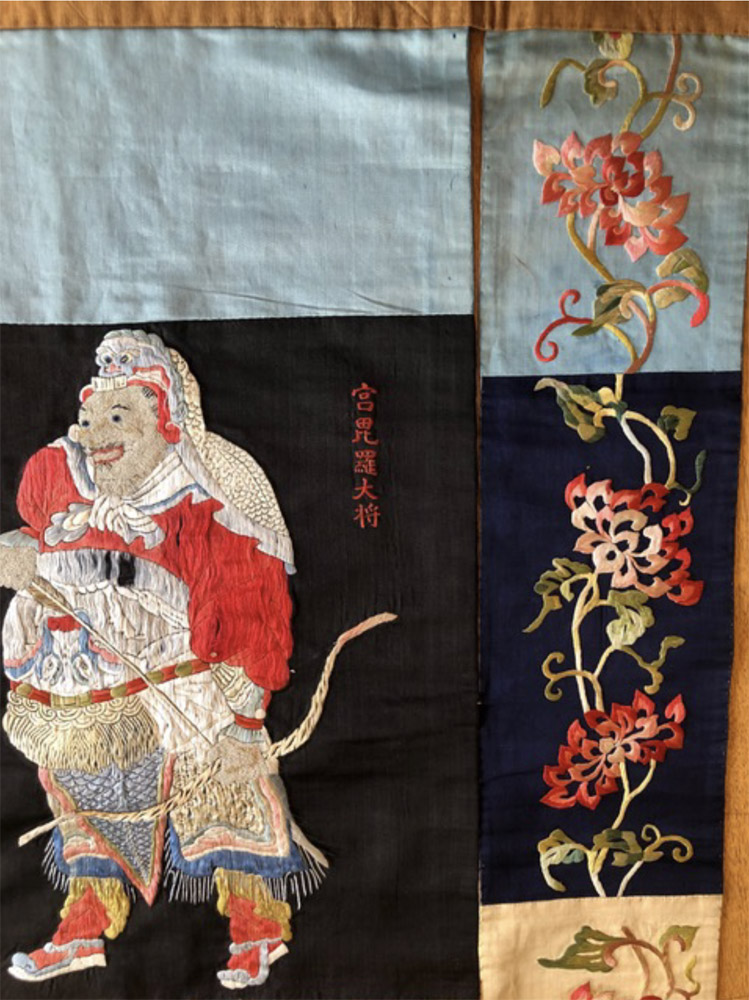 After living in a safety deposit box for thirty years, an eleven foot long heavily embroidered 19th c silk Chinese 3-piece hanging 'walked' in to my office recently . The executor of the estate wondered what the owner had been paying for all these years, what was this textile? The provenance was curious, including the textile had been in the holdings of the Los Angeles County Museum for a decade early in 1900. The documented owner acquired the piece in 1929 as proprietor of The Pagoda, a Oriental antiques and giftware store on Grant Avenue in San Francisco. The executor of the estate said the owner acquired the textile from this merchant.
The rolled up textile was composed of three vertical panels, the two side borders heavily embroidered with open peony and leaves, the central border had single grand figures. The hanging depicts the first five of the 12 heavenly generals, they are the Heavenly Buddha's protective deities. The first deity is, Kubira or Kompira in Shinto and is the protective deity of merchant marines.
I contacted John Vollmer a scholar of Chinese textiles, for any insight into the hanging. I value my network and follow advice given. We explored whether the hanging could be Japanese because 12 heavenly generals are not so common in Chinese art. After a few more emails and discussions, I felt confident the embroidery was Chinese.
The Chinese characters or kanji, embroidered next to the figure's head are not of the same high-quality as the rest of the deity embroidery. There are three different types of embroidery, adding to the value. The face and hands are a wrapped knot stitch, often referred to as seed stitch. Most of the figure and his elaborate many piece costume is floss stitch, in very good condition. The waves on his front belt, the feathers of the arrow and some of the decoration on the bow, his wrist guards and the scales on the back of his serpent-like headdress are done by stitching a gold wrapped thread, couching, onto the fabric. Strips of gold leaf are cut, cotton is wrapped tightly with this gold leaf and then placed on top of the ground fabric and stitched to silk base fabric.
It is this variation that adds value, as well as the quality of the work and condition. The degree of shading on the border especially among the leaves is typical early 19th c. The two flanking floral vertical hangings could be recycled sleeve bands from a robe. The flanking flower hangings are attached with threads approximately every two feet.
The value characteristics of this Chinese late 19th century embroidery are the three distinct techniques and the condition. I quoted the owner a value and suggested that he get the textile conserved. After conservation I think the fair market value of this Chinese 19th century three technique embroidered hanging could bring between 7,000 and $8,000.