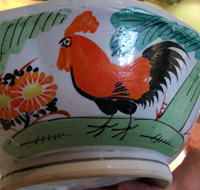 Welcome to Cynthia Shaver Asian Art Appraiser Newsletter February 2017
Happy New Year of the Red Rooster,
The year began with a special culinary New Year dish delivered to our door as a thank you by a community business, along side a freshly cooked crab still warm. This will ensure a very healthy and prosperous year. Let's share our special foods with neighbors. Please be active in your communities, that weaves our infrastructure.
With thumbs up,
Cynthia
CultureGrrl inside look at art used as loan, becomes political
http://www.artsjournal.com/culturegrrl/2017/01/st-louis-blues-art-museum-unfairly-slammed-as-a-trump-chump.html
and
http://www.artsjournal.com/culturegrrl/2017/01/never-ending-battle-mobilizing-once-again-to-save-the-national-endowments-for-the-arts-humanities.html
A 2.5 hour discussion at Asia Society NY on trade and foreign policy between Asia and the Trump administration. Long but quite in depth
http://asiasociety.org/blog/asia/what-should-trump-administration-do-asia-11-experts-weigh?utm_source=t.co&utm_medium=referral
The top ten most expensive Chinese artists
https://news.artnet.com/market/top-10-expensive-chinese-artists-2015-399159